In 2013, Dota 2 was launched, 10 years after the Warcraft III mode it was derived from. Even though the competitive 10-player game has been around for almost two decades, it continues to entertain a dedicated fanbase - and it's easy to see why. Esport Dota 2 is a deeply complex game with over 120 playable characters and over 200 in-game items, meaning every match presents unique challenges to overcome. It's rewarding when you finally master a fast-paced chess game with hundreds of moving pieces, and it feels incredible when you succeed.
Dota 2 is played between teams of five players to destroy the opposing team's main structure. Dota 2's predecessor, Defence of the Ancients, takes its name from this goal known as the Ancient. If your team cannot destroy your enemy's Ancient, killing enemies, destroying towers, and collecting gold will all mean nothing.
Fans of other MOBAs, like League of Legends, should recognize it as a fairly simple objective. The Ancient, however, can only be reached after overcoming several obstacles.
The map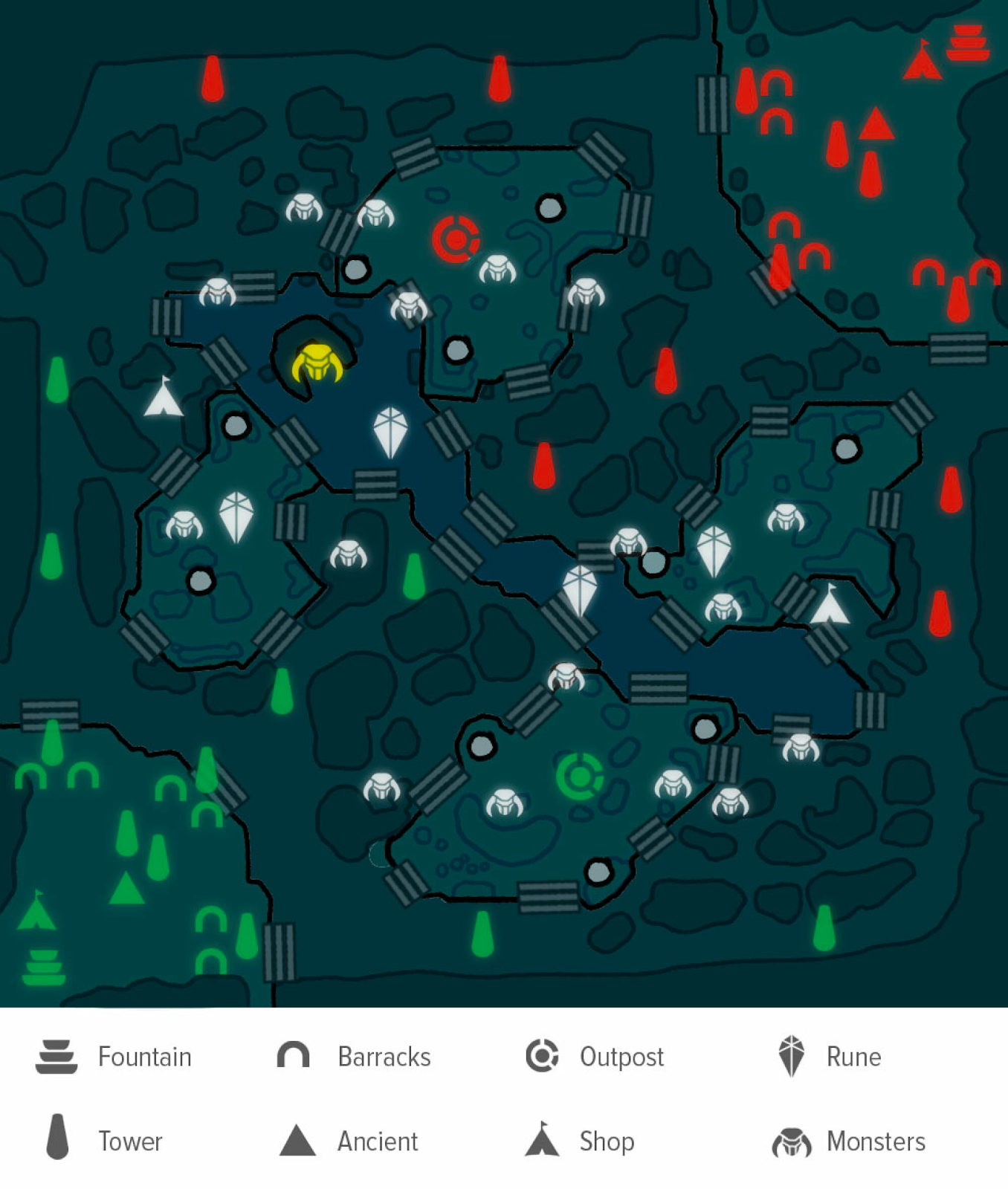 As far as possible, one team's base is placed in the top left corner of the square map, while the others are in the bottom right. As a result, there are three lanes connecting these two bases - one that follows the upper edge, the lower edge, and a third that goes diagonally through the middle.
The two teams share six towers located at regular intervals along each lane. When enemy units come too close to these towers, they are automatically attacked. Early in the game, give them a wide berth.
You will inevitably encounter these towers at some point. Defeat all three enemy towers along at least one of these lanes before you can breach your opponent's base and attack their Ancient. A building in an enemy base is invulnerable until it falls.
The base
Each team's base has a few other important structures besides their Ancient.
Each match begins at the Fountain near the corner of the map. Upon respawning after a death, you also reappear there. As well as replenishing your health and mana, the Fountain is also where you can pick up your purchases.
Each base has six barracks, one Melee Barracks, and one Ranged Barracks at each end of each lane. In addition, each team has its barracks, which supply AI-controlled defenders called creeps. While Barracks isn't mandatory, teams usually destroy them anyway since each functional one strengthens its creeps.
The creeps
Dota 2 doesn't just give you four teammates; it also supplies you with steady supplies of cannon fodder in the form of creeps. A small group of non-playable minions will accompany the start of each path for each team. In addition to attacking enemy creeps, buildings, or players on the opposing team, these creeps will mindlessly march down the assigned path.
During the game's early stages, you'll spend most of your time dealing with these creeps. As you stay with your allied creeps, they'll absorb any aggression you encounter from your enemies, and they'll also provide you cover by attacking anyone who might attempt to harm you. 
The best way to accumulate gold and experience is to kill enemy creeps. You can use gold to purchase items that can strengthen your character and give them new abilities. During this time, your character levels up, giving you skill points to enhance your abilities. Each player's hero starts on a fresh footing when a new match begins; gold and experience are earned in individual matches.
The heroes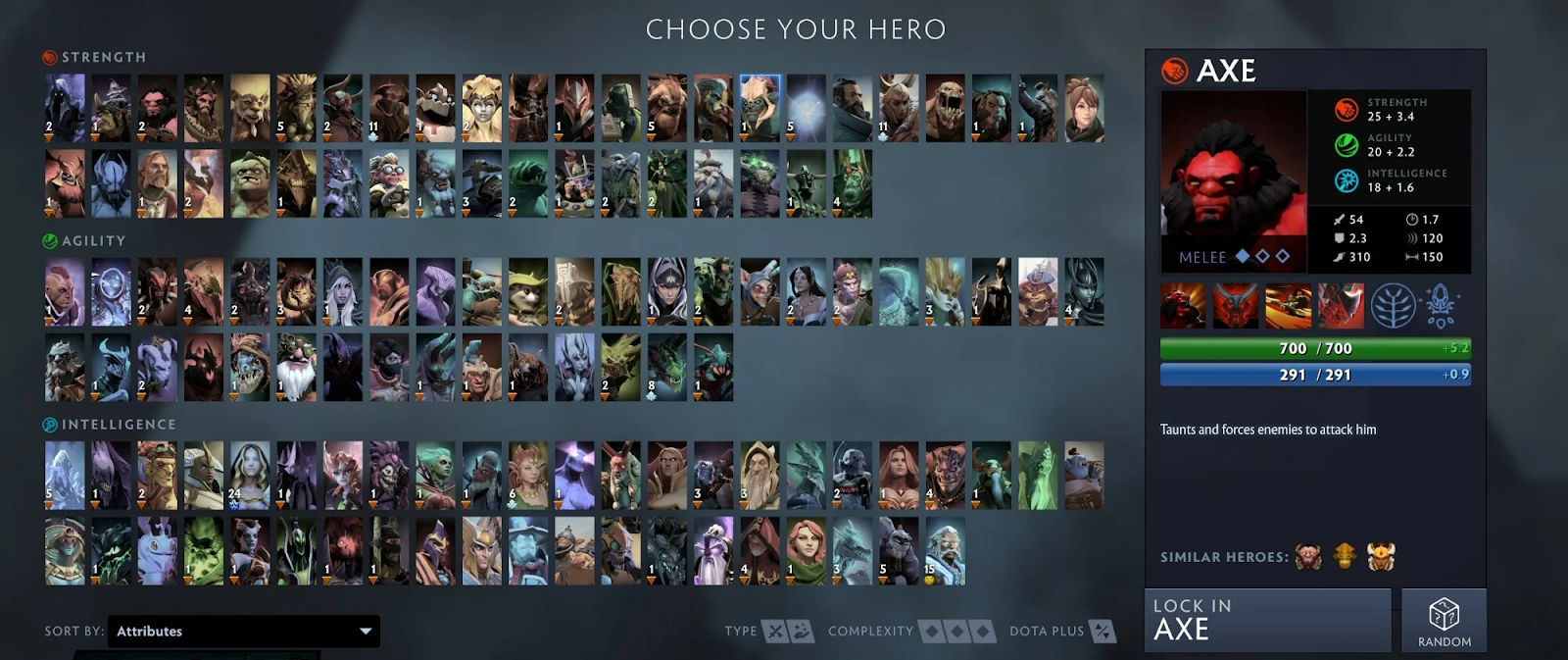 In Dota 2, players control heroes, each with unique stats and skills. Matches begin with players choosing their characters. Each hero can be selected only once per game - once a hero is picked, it can no longer be selected by anyone else on either team. 
In this case, players must decide whether to choose a hero early enough to secure the one they want or late enough to take strategic considerations into account, such as countering the opposing team's picks and making sure your own picks are not held back by their corresponding counterpicks.
A hero typically has four abilities: three regular ones and a powerful ultimate power unlocked at level 6. It is possible to have active abilities that require you to press a button to use them (which usually costs mana, a metering resource similar to your health bar); or passive abilities that work quietly in the background at all times. Knowing how the various abilities work and synergize together is a large part of the Dota 2 experience - not just for your hero but also for the other heroes you play against.