Premium Tanks are exceptional kinds of vehicles in the World of Tanks. They are special single-configuration tanks that are not placed on the nation's tech trees.
They improve your gaming experience by:
facilitating the skills development of your crew by granting a bonus of 50% to experience added after battles,
increasing credit profits.
In Standard gameplay, along with progression in levels, you unlock more advanced and powerful machines. Unfortunately, this rule doesn't apply to Premium tanks.
Luckily, there are special ways to get free Premium Tanks in the World of Tanks. Some of them are fully effortless, but there are also a few labor-intensive ones.
1# MillionPugs cashback service
Let's start with the effortless option of getting Premium Tanks, which is using the MillionPugs cashback service.
MillionPugs is a brand-new cashback platform created for gamers to help them get fancy in-game content they need for shopping online. The service is still evolving, partnering with new games and new brands. Nevertheless, it already offers items for games, such as:
World of Tanks,
KARDS,
Gwent: The Witcher Card Game,
World of Warships,
and others.
How does MillionPugs work?
As already mentioned, MillionPugs allow gamers to earn in-game content for shopping online. Currently, they partner with almost 2000 brands from multiple industries that have prepared special deals for MillionPugs users.
Once you shop online at any of them, you can activate these deals and, after you make the purchase, you will see the promised number of reward points, called pugs™, on your MillionPugs account.
The great part about using MillionPugs service is the fact that you don't have to change your shopping habits. They are affiliated with numerous companies, among which you can find the most popular brands, like:
Grubhub,
Best buy,
Walgreens,
New balance,
Newegg,
Aliexpress,
UberEats,
and many more. Therefore, you probably already shop at a few of the partnered brands. You just need to start activating pugs™ deals to get the fancy in-game content for the World of Tanks.
What in-game content can I get?
For World of Tanks players, MillionPugs has prepared:
multiple types of packages, for example, starter pack with Premium account and a tank,
different amounts of gold,
credit boosters,
Premium Tanks.
As for the Premium Tanks, there is a wide selection to choose from. You can opt for Tier III American Light Tank MTLS-1G14, Tier VII American Tank Destroyer M56 Scorpion, Tier VIII American Medium Tank T26E4 SuperPershing, and others.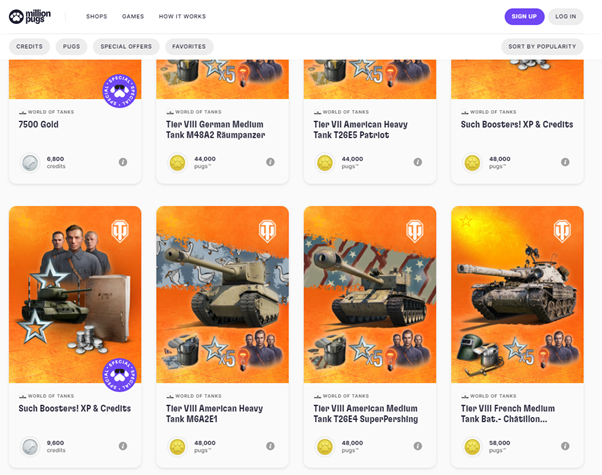 MillionPugs is still growing and differentiates available content. Therefore, once you have a MillionPugs account, you may see new fancy Premium Tanks, and other World of Tanks content appear on the list.
Once you collect a sufficient number of pugs™ on your MillionPugs account, you just need to click on the Premium tank of your choice, purchase it in exchange for points, and activate a code you receive in the game.
2# In-game gold
In spite of the fact that you cannot earn a Premium tank through Standard level progression, there are a few special methods to get them in the game world.
Firstly, you can simply purchase a Premium vehicle in the Gift shop for in-game gold.
If you are an experienced player, though, you must be aware that gold is not the easiest resource to get in the World of Tanks. Standard gameplay involving Random battles and Standard missions  doesn't grant gold.
Luckily, there are a few special methods of earning gold, and then exchanging it for Premium Tanks. These methods include:
taking advantage of the MillionPugs service,
becoming a member of a clan and fighting in Clan Wars,
participating in missions that are part of Bootcamps,
fighting in Ranked battles,
completing special missions.
All of the above can equip you with gold, but also with other powerful in-game items.
3# Special events
Last but not least, Premium tanks can also be earned during special events.
These events are usually in the form of weekend or week-long tournaments where gamers are encouraged to participate and complete tournament missions. Active and winning players can count on valuable prizes, such as Premium Tanks, gold, consumables, equipment and other in-game items.
Such events are organized regularly and the organizers always pre-announce such occurrences. Therefore, it is advisable to keep up with the latest World of Tanks news in order not to miss out on opportunities to get valuable in-game content.
Summing up, Premium tanks are special kinds of vehicles in the World of Tanks. They are powerful machines that can increase your credit profits and speed up the process of training your crew by boosting its experience.
These vehicles cannot be earned through level progression in the game, but there are free ways to earn them. You can use an effortless way to get a Premium tank in the World of Tanks and take advantage of the MillionPugs cashback service. Apart from this, you can also purchase Premium machines for in-game gold, or win them in tournaments.