World of Battles: Morningstar (0)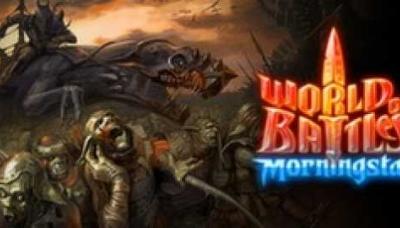 First release date
2012-04-25
Developer
Frogwares Game Development Studio
Publisher
Frogwares Game Development Studio
Overview
World of Battles is a F2P RTS that has a progression system similar to that of an MMO. Up to 8 players can partake in any one battle, and each player can control 16 sets of units per battle.
Gameplay
There are a number of different races, each is aligned as either good, evil or neutral. The races currently in the game are:
Knights
Dwares
Elves
Dark Elves
Orcs
Undead
Beast Folk
Barbarians
Amazons
Each player is allowed 10 armies, meaning that they can experiment with races and unit compositions at their will. The combat is very similar to that of a Total War game. The functions of the game are like most RTS games, you have attack moving, boxing of units, control groups, hotkeys etc.
Each race have unique units, however they all function the same and can be catagorised in this fashion - Infantry, pikeman, archers and cavalry. These can then be broken down into light and heavy versions, each with their own bonuses and drawbacks. The main variety to the units comes from "Master Units". These are special units that have unique abilities depending on what race it is from.
F2P Model
WoB uses a F2P system. This means that anyone can play the game without spending any money. However, as with all F2P games, there is an item mall, where players can purchase units, abilites etc. A big issue with the F2P model in WoB is that it leans heavily into the "pay to win" formula. Those that pay are able to have each unit be a Master Unit for example, therefore their army will be far superior, and no amount of tactics will save the day. This comes with the F2P ground, however balancing this formula is what makes a F2P game successful.
Army Customizaton
Each unit can be customized with a large variety of equipment, that can be won through battle, and ofcourse, bought through the item mall. The types if equipment available include:
Shields
Armour suits
Helmets
Greaves
Mounts
Amulets
Belts
Earrings
Rings
Forever Updating
As this is a F2P title, Frogwares will forever be updating the game with new content. This includes new units, single player challenges, equipment, clan modes and battles and new game modes.
System Requirements
Minimal:
CPU: Intel Pentium 4 3 Ghz, AMD Athlon 3000+
RAM: 1024 MB (2048MB: Windows 7, Windows Vista)
VGA: NVIDIA GeForce 6600GT or ATI Radeon X1600, 128 MB
DX: DirectX 9.0 (2008 march)
OS: Windows XP SP3, Windows Vista, Windows 7
Optimal:
CPU: Intel Core 2 Duo, AMD Athlon X2 3GHz
RAM: 2048 MB
VGA: NVIDIA GeForce 8800 series or ATI Radeon 4800 series, 512 MB
DX: DirectX 9.0 (2008 march)
OS: Windows XP SP3, Windows Vista, Windows 7