Heroes of Dire (0)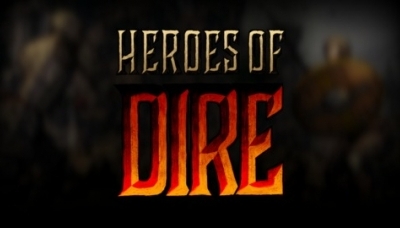 First release date
2016-12-31
Platform
Mac
PC
iPhone
iPad
Android
Linux
Overview
Heroes of Dire is a turn-based tactical fantasy role playing game. Players create squads of fighters from several available archetypes and battle against NPCs and other players in strategic combat. Heroes of Dire's combat system is inspired by classic games such as Chess, X-Com, and Dungeons & Dragons.
Cross-platform play is available PC, Mac, Linux, iOS, and Android. Release on Steam is coming soon. Desktop users can download the game now at http://www.dire.com/. Heroes of Dire has been developed in Unity3D.
Alpha Testing began shortly after the Kickstarter ended in June 2016. Heroes of Dire was officially released in December 2016. The game is still undergoing rapid development, with daily feature and content updates. Client updates occur weekly.
Features
Seven unique Fighter Archetypes, each with their own skills, abilities, and equipment.
An open game world currently containing of over 160 hand-crafted city, wilderness, and dungeon areas.
Combat takes place in nearly 200 different grided battlefields (e.g. city alleys, forests, and boats).
Procedurally generated fighter stats and names, item stats, and battlefield layouts.
Heavy focus on social interaction between players, including group and guild play.
Customizable Guild Halls and GvG PVP.
A robust in-game chat and mail system.
Personal, Guild, and Community Quests
Web-based Armory, Stats, and Achievements
Hardcore Fighters for those that want an extra challenge.
Treasure Maps and Treasure Chests!
Free to Play
A single game currency (silvers), no "premium" or "freemium" currencies!
No "pay to win" features. Items and Fighters available to buy on the Player Market have been earned and discovered by other players!
Monetization is not obtrusive, and done through fighter customization (e.g. vanity options, random renames) and inventory improvements.
Dedicated developers who are frequently available in-game and active on the forums.
Live Dungeon Master events and contests
Seasonal Events
Live Dungeon Master streaming (coming soon!)