Command & Conquer (0)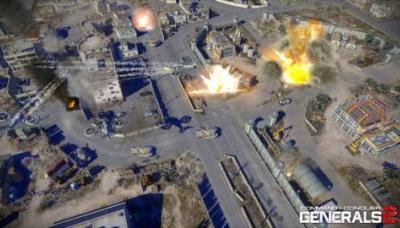 Overview
Command & Conquer, first revealed under the title "Command & Conquer: Generals 2", was being developed as a free-to-play sequel to in the long-running franchise. On October 29th, 2013, EA announced the . The game was being developed by (briefly known as BioWare Victory) using the engine, with , as the Executive Producer.
The game was officially unveiled with a trailer at the 2011 . It was slated to feature three factions and support both and competitive online multiplayer.
At the time the game was cancelled, it was officially considered to be in closed alpha. All players who participated in the closed alpha had their in-app purchases refunded. The final message from Victory Games, dated Oct 29, 2013, explains the reason for the cancellation was that, "[player] feedback from the alpha was clear: We are not making the game you want to play". The statement concludes by saying, "we have already begun looking at a number of alternatives to get the game back on track" and "look forward to sharing more news about the franchise as it develops." Victory Games was shut down by EA that same day. No further information about the game has since emerged.
Factions
Command & Conquer featured three factions: the European Union, the Global Liberation Army and the Asia Pacific Alliance.
European Union
The European Union is designed to be accessible, with a range of units and abilities that should feel familiar to franchise veterans while maintaining flexibility for advanced players.
Asia Pacific Alliance
The Asia Pacific Alliance are less technology advanced than the E.U., but make for it with the ability to quickly field large quantities of low-level units.
Global Liberation Army
The Global Liberation Army is a terrorist organization who employ improvise warfare through black markets and makeshift weaponry, including suicide bombers and dirty bombs.