Pharaoh (0)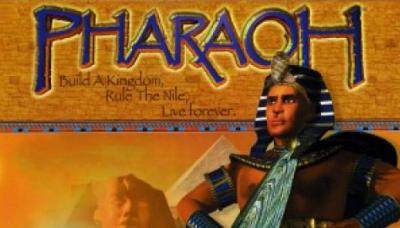 First release date
1999-10-31
Overview
Pharaoh Is a city-building game set in Ancient Egypt. It is all about constructing and managing settlements and cities in Ancient Egypt. This was the fourth city building game developed by Impressions Games, since they had released Caesar 1, 2 and 3 before this. Pharaoh displayed many similarities to the Caesar games, with similar buildings, game mechanics and UI.
Campaign:
The campaign in Pharaoh plays out in chronological order, divided up along the major periods of that era:
Pre-Dynastic Period (tutorial missions)
Archaic Period
Old Kingdom
Middle Kingdom
New Kingdom
As the campaign progresses, the player will rise in rank from Village Elder to Pharaoh. Every rise in the ranks comes with a wage increase. This money can be used to boost the city's finances or send gifts to the Pharaoh to increase the player's favour with him. A high favour rating is often one of the objectives to complete the mission.
Other objectives are gaining the required Culture, Prosperity and Monument ratings, as well as having a high enough population.
Gameplay:
Religion
Like other Impressions city-building games, religion plays a major role in Pharaoh. As governor, the player needs to pay sufficient homage to the gods, in order to gain their favour and be granted bonuses. Failure to pay such homage will result in punishment from the gods, varying from failed harvests to epidemics. The gods in Pharaoh are Osiris, Ra, Ptah, Seth and Bast, each with different bonuses and different punishments.
To gain favor the player must build temples and other houses of worship to continually keep the gods happy.
Monuments
Fittingly for a game about ancient Egypt, Pharaoh puts a large emphasis on monument-building. These monuments vary from small tombs to the iconic Pyramids, including Sphinxes. Each monument requires large amounts of time and resources including slabs of stone, labor camps, skilled labor, and luxury items for tombs.
Expansion
The expansion to Pharaoh, , was released on Jul. 11, 2000.
System Requirements
Windows 95/98
CPU: Pentium 133 MHz
RAM: 32MB
Hard Drive Space: 300MB (Minimum Install)