Kenny vs Spenny: Versusville (0)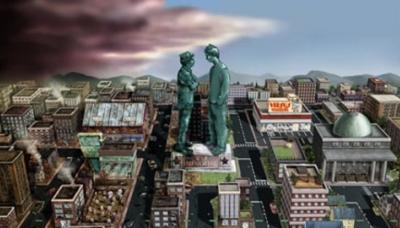 Based on the TV series Kenny vs Spenny (starring Kenny Hotz and Spencer Rice), Versusville is free to play and features 4 different games that can be played in real time in either single or multiplayer online modes.
The four games are Residence Evil, Wasteball, Kart Dart & Grave Rave. High scores were featured on the website for the game when it was active.
Residence Evil is the tutorial that explains how all the other games work. Wasteball is a paintball game. Kart Dart is a shopping cart racing game. In Grave Race, players have to throw zombie parts at their competitors in a graveyard. The game was nominated for a Canadian New Media Award for Excellence in Gaming.
RESIDENCE EVIL - New arrivals to Versusville must first play Residence Evil. This game is only presented in the single-player mode and is the tutorial for all the other games.
WASTEBALL - A disused building has been transformed into a chemical waste paintball arena, where players compete in brutal slime-filled matches.
KART DART - Competitors are challenged to race with shopping trolleys around the Versus Food Market. They have only three laps to get to the front of the pack, by fair means or foul, and cross the finish line first with the most competition points.
GRAVE RAVE - A cemetery late at night is the perfect place for peer humiliation. Players must throw zombie parts to dispatch the other players!