Pinball FX3 (0)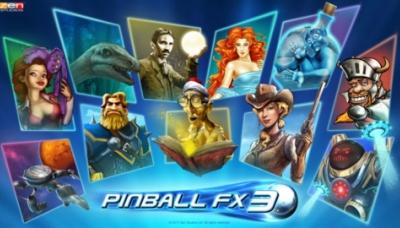 First release date
2017-09-26
Platform
PC
Xbox One
PlayStation 4
Nintendo Switch
Overview
Pinball FX3 is a pinball game developed and published by for , , and .
Gameplay
Like the previous entry in the series, Pinball FX3 is a free to play shell with the table Sorcerer's Lair being free with others available for purchase. The game features a persistent player level that is increased by playing the tables and earning points. As players level up they earn different borders and backgrounds for their player card.
Single Player
Selecting the single player option gives players the chance to play any of their purchased tables alone, or with a friend via the hotseat mode which has players taking turns on a single screen.
When selecting a table players are given multiple options:
Single Player & Hotseat - This is the main mode of the game. Players play a full game of pinball, trying to complete table goals or getting high scores. This mode has a few sub options such as single player, classic single player, hotseat, and practice. Single player allows the use of scoring upgrades while classic does not.
Table Mastery - Players can look at how much mastery they have unlocked for each of the tables.
Upgrades - Players can turn on or off any of the upgrades earned on an individual table. These upgrades are gained by playing the tables and achieving certain goals such as amount of bumpers hit or skill shots. These upgrades will affect the scoring of the game.
Table Guide - The table guide walks players through the mechanics of each table and how they work.
Challenges - The challenges section has players playing a table with altered rules in order to unlock more table upgrades. Each challenge has up to five stars that can be earned. The different challenges are 1 ball, 5 minute, and survival.
Matchup
Matchup mode is an online multiplayer mode which gives players an option to choose from three different opponents. They are ranked from easiest challenge to hardest challenge, with the harder challenges netting better rewards. Players are given a rank depending on how many games are won/lost.
Players also earn a diversity bonus for playing on multiple different tables.
Tournaments
In tournaments mode players can participate in both official and player created tournaments. Tournaments are set for a certain number of days and players can play that table using the settings the creator has set up to try and set the highest score possible. After the set amount of days are up players are then ranked based on their score.
When creating tournaments players have the option to choose the amount of days, whether it is regular style or one of the challenge mode styles, and whether or not players can use upgrades.
Leaderboards
The leaderboards section allows players to look at their scores on any table and compare them to people around the world or their friends.
Several options are available for each table:
Single Play All-Time
Single Play Weekly
Classic Play All-Time
Classic Play Weekly
Survival Challenge All-Time
Survival Challenge Weekly
1-Ball Challenge All-Time
1-Ball Challenge Weekly
5 Minute Challenge All-Time
5 Minute Challenge Weekly
There are also 2 global leaderboards that span across all tables, Wizard Score and Superscore.
Backwards Compatibility
If players are using the same account and platform that has previously purchased tables in , most of the tables are moved forward in to Pinball FX3 for free.
Excluded Tables
All tables designed for the original are designed for a scripting engine older than the one used in this game and . The following tables are "" to appear in Pinball FX3: Agents, Extreme, Speed Machine, Buccaneer, Rocky and Bullwinkle, and Nightmare Mansion.
Also, tables such as South Park, Street Fighter, Plants Vs. Zombies, Ms. Splosion Man, and Ninja Gaiden would not come over due to licensing issues.
System Requirements
PC Minimum
Operating System: Windows 7 / Windows 8 / Windows 10
Processor: Dual Core CPU @ 1.6GHz
Memory: 4 GB RAM
Graphics: Nvida GTS 450 or AMD equivalent
DirectX: Version 11
Storage: 6 GB available space
Sound Card: DirectX compatible sound card / integrated