Magic Johnson's Fast Break (0)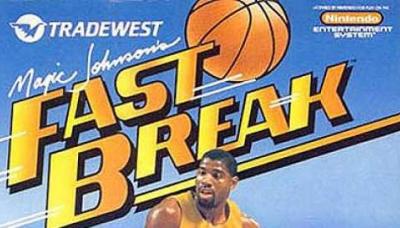 First release date
1989-12-31
Platform
Amiga
Amstrad CPC
Commodore 64
ZX Spectrum
Nintendo Entertainment System
PC
Developer
Arcadia Systems, Inc.
Acclaim Studios Salt Lake City
Synergistic Software, Inc.
Publisher
Dro Soft
Arcadia Systems, Inc.
Tradewest, Inc.
Beam Software
Mastertronic Ltd.
Overview
Magic Johnson's Fast Break is an arcade basketball game developed and published for various home computers and consoles by a variety of studios in 1989 through 1990. The game features the name and likeness of ., a point guard player for the .
Gameplay
Featuring two generic basketball teams consisting of two players rather than the standard five, the game takes an arcade approach to basketball. Players play matches at varying degrees of difficulty continually to increase their teams' net worth which in turn functions as a . Although most releases support two-player mode, the also offers three and four player modes through the use of either the NES Satellite or NES Four Score console accessories. It is one of only a handful of games released on the system to offer this.