Cabela's African Adventures (0)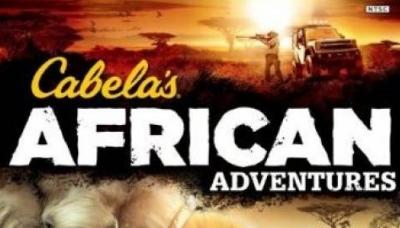 First release date
2013-10-15
Platform
Xbox 360
PlayStation 3
Wii
PlayStation Network (PS3)
PC
Xbox One
PlayStation 4
Overview
Cabela's African Adventures is video game in the Cabela's franchise developed by Fun Labs. It is a third person action-hunting game taking places in different locations within Africa. Hunt various animals from rhinos, lions and elephants.
Story
Mason is a hunter for hire, he's been tasked to take down 5 animals that roam the lands. These animals hold pieces of a tribal statue that mason has been tasked to retrieve. Explore different regions such as the Green Savannah, Desert, Jungle and Dry Savannah. In each region resides one of the top animals that roams the lands. It's up to Mason to hunt these beast down and collect the 5 pieces to complete the statue.
Gameplay
Cabela's African Adventures is an open world game split into different regions that will unlock during the main story. Within each region Mason hunts various animals specific to that area.
Mason has a jeep that he can drive to access hunting grounds to complete missions. The jeep replenished Mason's ammo and health, while also allowing the player to change different abilities.
Each mission and extra objectives earn Mason experience that increase his abilities and allowing the player to upgrade he skill tree. Each skill tree consist of Offensive, Defensive and Stealth.
Abilities
Experience is awarded for completing hunts, objectives and finding collectibles. It is used to unlocked abilities in the offensive, defensive and stealth categories.
Offensive
Rapid Fire : [ACTIVE] Fires all rounds in the clip in a quick burst. Works best for firearms with large clip size.
See Vitals : [PASSIVE] Vitals are fully visible for any animal in your crosshairs.
Knock-back : [ACTIVE] Deals huge damage and knocks back leaping attackers. Can only be used from the hip and animal must be in mid leap
Lock-on : After a 1 second delay, fires an extremely accurate, powerful shot to an animal. Can only be used when aiming down sights.
Defensive
Stagger : [ACTIVE] A forceful shot that causes charging animals to stagger momentarily. 5 uses maximum.
Waring Shot : [ACTIVE] Fire a loud shot in the air, making aggressive animals back off for a short time. 5 uses maximum.
Adrenaline Dodge : [PASSIVE] Adrenaline can be triggered after any successful dodge
Last Stand : [PASSIVE] Causes a special Adrenaline state when health is very low. Successful shots during this state will restore health.
Stealth
Stealth Sprint : [PASSIVE] Enables sprinting while crouched.
Disappear : [ACTIVE] Immediately clears all current animal suspicion.
Spotting : [ACTIVE] Patrolling animals' silhouettes become visible. Useful for seeing animals behind kills, rocks, or bushes.
Attract : [ACTIVE] Snap a twig to attract a nearby animal to your location.
Minimum System Requirements
OS: Windows® XP 32-bit (with Service Pack 3)
Processor: Intel Core® 2 Duo E2200 @2.2GHz or AMD Athlon 64 X2 4400+ Socket AM2 @2.2GHz
Memory: 2 GB RAM
Graphics: NVidia GeForce 8600 GT 512MB/ AMD HD 4650 512MB
DirectX: Version 9.0c
Network: Broadband Internet connection
Hard Drive: 9 GB available space
Sound Card: DirectX Compatible Sound Card