You're My Hero (0)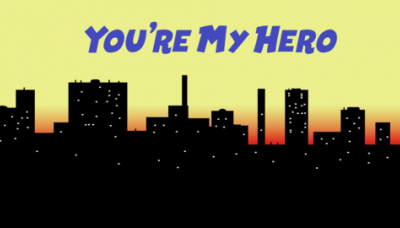 First release date
2017-06-17
Overview
You're My Hero is an adventure game released by in 2017. The game is a point and click adventure with platformer scenes interspersed. It was originally created as an entry to Adventure Jam 2017, then later polished further into a release version.
Story
The player takes on the role of Cheyenne who is also a superhero (which the player can name). Her boyfriend Terrell is kidnapped by one of the city's super villains.
She has to discover which villain kidnapped Terrell, find their base, and rescue him.
Gameplay
You're My Hero is a combination point and click adventure and action platformer. The objective is to discover the location of the base of each of three supervillains and then defeat them. The player can choose from three types of heroes which have different strengths, weaknesses, and abilities. The type of hero affects combat in the platformer sections as well as the the solutions to certain puzzles.
The base locations are discovered by questioning various people in town and piecing it together from their information. The player collects and uses inventory items, and talks to people through dialogue trees in the style of a classic point & click adventure.
Once a villain's base is found, the player must get through a platformer scene in order to reach the battle with that boss.
Boss battles once again use a point & click interface, but with more urgency as the player must avoid being killed by the villain while attempting to solve the puzzles to bring them down.