Tintin in Tibet (0)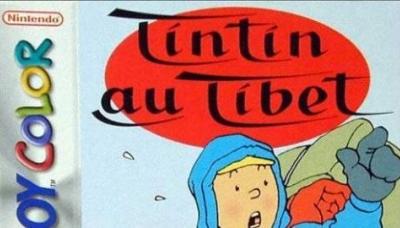 First release date
1994-12-31
Platform
Game Boy
Game Gear
Genesis
Super Nintendo Entertainment System
Game Boy Color
PC
Overview
Tintin au Tibet, localized in English as Tintin in Tibet, was first released on SNES, Genesis, Game Boy and Game Gear in 1994/95 before making its way to the Game Boy Color in 2001. It was developed and published by Infogrames (now Atari SA) for European regions exclusively and follows the plot of the comic of the same name, featuring Hergé's Belgian journalist hero as he searches Tibet for his supposedly deceased friend.
Story
Tintin au Tibet tells the same story as the Tintin au Tibet comic written by Hergé. It follows the adventures of young, Belgian reporter Tintin and his friends Captain Haddock and Professor Tournesol.
While Tintin and his friends are vacationing in a Swiss mountain resort, they get news about a plane crash in Tibet. Tintin starts having dreams of his friend Tchang, stranded in the Himalayas, calling for help. The next day, he receives a letter from Tchang confirming the fact that he was indeed on the doomed flight and Tintin decides to go to the crash site to see once and for all if his friend is really dead.
Tintin and Haddock go to Kathmandu and meet with Tharkey, a sherpa, who initially refuses to bring them to the crash site. After Haddock changes his mind, Tharkey, Tintin, Haddock, and a support team decide to climb to where the plane crashed.
Their adventure doesn't go as smoothly as they thought it would. First, Tintin's dog Milou (Snowy) almost drowns and then the support team abandons them because they're afraid of the Yeti. They finally make it to where the plane crashed. They find proof that Tchang survived the accident, but he is nowhere to be found. Tintin is about to give up when he finds his friend's scarf and decides to follow this new trail. After narrowly avoiding a lethal avalanche, they find a Buddhist monastery. One of the monks has a supernatural power and is able to locate Tchang, who's been in the Yeti's cave and was taken care of by the Yeti. Tintin reunites with his friend and leaves the cave.
The game's cut scenes were actually parts of the animated series Tintin au Tibet that was released at about the same time as the game.
Gameplay
Tintin au Tibet is a platformer. The player controls Tintin and must jump around multiple levels that range from a train station all the way to top of the Himalaya. Tintin can get hurt by a lot of things in the game's universe: butlers, bells, cows and even random people.
The gameplay tries to recreate some of the famous scenes from the comic. In the scene where Milou almost drowns, the player must swim to go get him. The game has the player climbing and sometimes sliding around the different levels. The game was also known for its difficulty and the fact that the codes given the player only worked every five levels.