Guacamelee!: Super Turbo Championship Edition (0)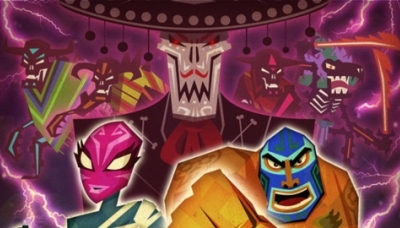 First release date
2014-07-02
Platform
Xbox 360 Games Store
PC
Wii U
Xbox One
PlayStation 4
Developer
DrinkBox Studios
Broken Rules
Creative Bytes Studios
Publisher
DrinkBox Studios
Activision
Vblank Entertainment
Overview
This new edition of the game bundles all the DLC, features exclusive new skills and levels, and was released on , , and July 2nd, 2014. The Wii U port was developed by .
This version of the game also includes an expanded story with new playable areas like the Canal de las Flores featuring new enemies and a new boss, El Trio de la Muerte. New abilities are also available in Super Turbo Championship Edition including INTENSO, Chicken Bombs, & Shadow Swap. The support for multiple save slots and a dual currency system were also added.
INTENSO - A rage combat ability that makes Juan more powerful. INTENSO has its own meter and when activated releases a burst of energy that damages nearby enemies.
Chicken Bombs - While using his Pollo Power Juan can lay eggs that explode. With the addition of this skill comes new destructible purple blocks in the environment.
Shadow Swap - A menu option for cooperative play which gives each player the independent ability to change between the light and dark worlds.