Fieldrunners (0)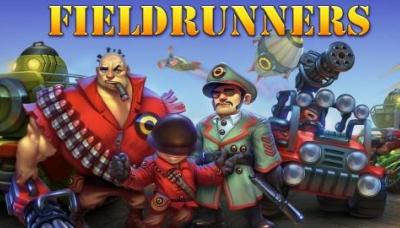 First release date
2008-10-05
Platform
Mac
PlayStation Network (PS3)
PC
iPhone
DSiWare
PlayStation Network (PSP)
iPad
Android
Linux
Overview
Fieldrunners is a simple game. Starting a game allows you to select mode, difficulty(easy, medium, hard), and map. The three modes are classic, extended, and endless, classic uses only 4 towers and will end after 100 rounds. Both extended and endless allow use of 6 towers. The only difference between them is that extended ends after 100 rounds. There are currently five maps available. It is good to know that on Crosslands, enemies always go toward the opposite exit from where they entered, so place your towers and make a path accordingly. Land units will always follow the shortest path to their exit which allows . Air units will fly straight across all defenses to the exit, so it is important to place a lot of heavier damage turrets closer to the middle of the map.
Fieldrunners was initially released for the , but overtime additional platforms came available.
Towers
Each tower can be upgraded twice for increased damage and range. All towers can attack both land and air units.
Gatling Tower - Continuous attack, short range. (Cost: $5, Upgrade: $4, Sell: $3*level)
Goo Tower - Slows enemies, medium range. (Cost: $10, Upgrade: $5, Sell: $3 $4*level)
Missile Tower - Splash damage, long range. (Cost: $20, Upgrade: $15, Sell: $4 $11*level)
Ice Tower - Slows enemies, replaces Goo Tower in Frostbite, short range. (Cost: $20, Upgrade: $15, Sell: $4 $11*level)
Laser Tower - Damages all enemies in a straight line, replaces Tesla Tower in Skyway. (Cost: $40, Upgrade: $30, Sell: $23 $67*level)
Flame Tower - Area of effect damage, short range. (Cost: $50, Upgrade: $40, Sell: $7 $30*level)
Tesla Tower - Massive damage, medium range. (Cost: $70, Upgrade: $50, Sell: $14 $38*level)
Mortar Tower - Massive splash damage, exclusively long range. (Cost: $120, Upgrade: $90, Sell: $23 $67*level)
Maps
The "Availability" column only refers to the iPhone release of Fieldrunners; all maps are included in the PSP and DSiWare releases.
| Name | Entrances | Exits | Obstacles | Availability |
| --- | --- | --- | --- | --- |
| Grasslands | 1 | 1 | No | Included |
| Crossroads | 2 | 2 | No | Included (Unlockable) |
| Drylands | 3 | 3 | No | Included (Unlockable) |
| Skyway | 1 | 1 | Yes | In-game purchase |
| Frostbite | 2 | 2 | Yes | In-game purchase |
PC System Requirements
OS: Microsoft Windows XP or later
Processor: 1.6 GHz Processor
Memory: 512 MB RAM
Hard Disk Space: 285MB Free Hard Drive Space
Video Card: hardware and driver support for OpenGL 3.0
DirectX®: 9.0c
Mac System Requirements
OS: OS X version Snow Leopard 10.6.3, or later.
Processor: Mac Intel
Memory: 512 MB RAM
Hard Disk Space: 285MB Free Hard Drive Space
Video Card: hardware and driver support for OpenGL 3.0