Double Dribble (0)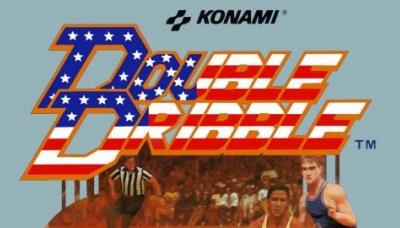 First release date
1987-01-29
Platform
Amiga
Game Boy
Commodore 64
Nintendo Entertainment System
Arcade
Wii Shop
Famicom Disk System
PC
Aliases
Exciting Basketball Konamic Basket
Overview
Double Dribble gained much fame on the as the first popular 5-on-5 basketball simulation. Previous titles focused on 1-on-1 play, such as and the Atari classic . Double Dribble contained several features that were considered state of the art at the time of its release including speech, the inclusion of Sousa's Star-Spangled Banner, and during dunks.
Gameplay
Double Dribble featured 4 teams, the Boston Frogs, Chicago Ox, L.A. Breakers, and New York Eagles. The teams were not officially licensed, but were based off of popular NBA teams. The teams had and funky that would entertain during halftime.
The overall controls and accuracy of shooting were standout features. Shooting was said to have a realistic feel and 3-pointers were accompanied by a sound effect that helped emphasize the importance of the shot.
A single player and versus mode were included.