CompliKATed (0)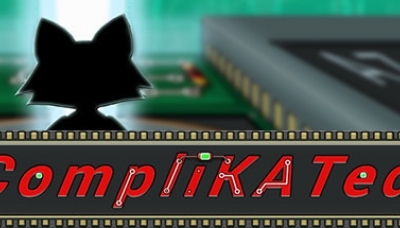 First release date
2017-10-04
Overview
CompliKATed is an indie puzzle game developed by Lite Microsystems. The game is available on PC via Steam for the Windows, Mac and Linux platforms for 9.99$. The game was released on 4 October 2017.
The Steam release of the game has 23 achievements. The game supports cross platform Steam Cloud.
Gameplay
In CompliKATed the player controls Julius (a fox simulated in a computer) which is trying to escape corrupted memory blocks. The core mechanics is collecting a certain amount of QBITs (quantum bits) controlling various puzzle elements in order to reach the exit in the allotted time. The gameplay is a mix between old tile based variations of Boulder Dash and Supaplex with logic gate puzzles.
The logic gate elements are depicted as computer terminals (programmable logic nodes), wires and various functional blocks. The logic gates are viewed as computer terminals that accept an instruction disk (looks like 1.44 floppy disks or zip drive disks). Depending on the number of inputs each terminal can accept a certain type of instruction disk. Single input terminals only accept NOT disks while dual input terminals can accept AND, OR, NOR, NAND and XOR.
Even though the levels are timed, in normal mode the game doesn't end when the counter reaches 0. Instead the player is penalised with 1 point.
The character (Julius) has a light bulb indicator on its tail that starts red at the beginning of the level. As the player collects QBITs the tail color turns to yellow and green. When the tail light is green, the player can exit the level. The levels can be finished without collecting all the QBITs (once the tail light is green) but the player will lose 1 point at the level score.
System Requirements
Windows - Minimum
OS: Windows XP SP3 / Vista / 7 / 8 / 10
Processor: 2.0 GHz Processor
Memory: 2 GB RAM
Graphics: Shader Model 3 recommended
Storage: 350 MB available space
Mac – Minimum
OS: 10.9
Processor: 2.0 GHz Processor
Memory: 4 GB RAM
Graphics: Intel
Storage: 300 MB available space
Linux – Minimum
OS: Ubuntu
Processor: 2.0 GHz Processor
Memory: 4 GB RAM
Graphics: Dedicated with Shader Model 3
Storage: 350 MB available space
External Links