Riana Rouge (0)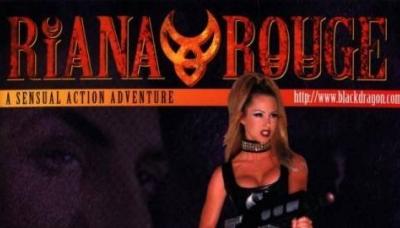 First release date
1998-12-31
Developer
Black Dragon Publishing, Inc.
Publisher
Black Dragon Publishing, Inc.
Overview
Riana Rouge, a , action adventure game, where the player solves puzzles to advance the story along. The most distinguishing features was its adults only content of softcore eroticism and graphic violence, with digitised actors and composited effects. The game draws close similarities with and other contemporary FMV games at the time in terms of; point-and- click puzzle gameplay, graphic violence and adult themed content. The game also featured emotive based, dialogue response sequences – color coded responses would represent different emotions and lead to different outcomes.
The game was developed by who was also the game's executive producer and played the lead of Rian Rouge. Because of Bonner's former life as a model turned computer entrepreneur and later founding game studio , Playboy featured her as a Playmate model of Aprill 1996. This created some marketing buzz behind the game, but did not change the lack of success both commercially and critically. The story and script was written by screenwriter Nancy Oliver, who would later on write for television shows such as; Six Feet Under, True Blood and films Lars and the Real Girl.
Story
Riana (Gillian Bonner), a mousy secretary on her last day on the job, walks in on her boss; Frank Virago (Joshua Caine), sexually assaulting another female co-worker (Heather Lawler), when Riana tries to intervene, she is thrown out the window - literally. Instead of hitting the ground she is transported to another dimension. Awaken by Javelin (also played by Heather Lawler) tells Riana that the prophecy has come true, that she is actually Riana Rouge and must be the one that's come to free them from an Evil Ruler (also played by Joshua Caine). In order to do this Riana must travel to three different worlds to find three different jewels. Javelin is then kidnapped and taken through a portal. Riana is then turned into scantily clad warrior as she goes through the portal to rescue Javelin and to defeat the the Evil Dictator.