Batman: The Enemy Within - The Telltale Series (0)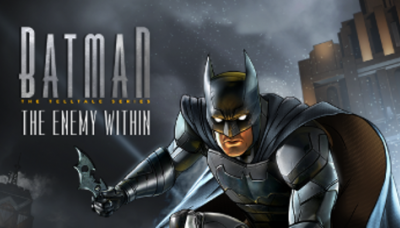 First release date
2017-08-08
Platform
PC
iPhone
Android
Xbox One
PlayStation 4
Developer
Telltale Games
WB Games
Publisher
Telltale Games
WB Games
Theme
Batman
DC Universe
Franchise
Batman
DC Universe
Overview
Batman: The Enemy Within - The Telltale Series is a five-part superhero point-and-click adventure game developed and published digitally by (in conjunction with ) for the , , , and most and devices. Episodes are still being periodically released starting on August 8, 2017.
The sequel to (and the twelfth of Telltale's "tailored story" set of games), players reprise the dual roles of as he tracks down , only to be swept up in a larger criminal conspiracy in the city of . Along with the GCPD (led by ), Batman receives help from a new source: The Agency (a led by the intimidating ).
The first episode of the game, along with a for the remaining four episodes, will be bundled in retail form on the Xbox One and PlayStation 4 on October 3, 2017.
Episodes
Episode 1: The Enigma (August 8, 2017)
One of Gotham's oldest and deadliest criminals has returned. Batman must work with allies old and new to stop this growing threat.
Episode 2: The Pact (October 3, 2017)
With his identity on the line, Bruce must work with a new power player in Gotham. A criminal conspiracy is growing in the shadows, threatening the entire city.
Episode 3: Fractured Mask (TBA 2017)
As the pressure to uncover the impending attack on Gotham intensifies, Bruce navigates his dual identity and his relationships with his new "allies."
Episode 4: What Ails You (TBA 2017)
A shocking revelation forces Bruce into a desperate change of plans as the villains' lethal plot escalates.
Episode 5: Same Stitch (TBA 2017)
The looming threat on Gotham reaches its boiling point, forcing Bruce to decide how far he is willing to go to protect his city from a force that threatens to bring it to its knees.