Hunter's Legacy (0)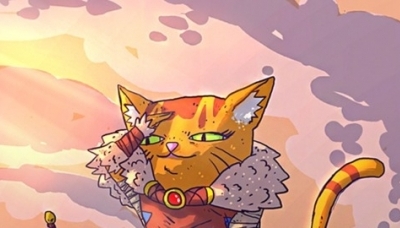 First release date
2016-07-19
Platform
PC
Xbox One
PlayStation 4
Overview
Evil Lord Morodir has stolen a most sacred relic, the Fang of Alliance. Now, Iripur, the lovely town inhabited by a feline race, is in decadence and chaos. It is the time for noble Ikki to jump into action and save the day. With her action-packed dual swords, trusty bow and fierce paws she'll conquer every difficulty and protect the Kingdom while discovering her true potential as the Huntress of Un'Amak.
The title began development as a side project at Lienzo in April 2015, following an unsuccessful Kickstarter campaign for another game, Mulaka: Origin Tribes. By October 2015 the game was greenlit on Steam and the studio began preparations to publish on said platform.
Gameplay
The player is in control of Ikki in a big interconnected world with multiple paths and a lot of verticality. To traverse it, the feline heroine is able to jump on moving platforms, climb ledges and fall great distances without taking damage. The game camera is responsive to the ground height, and moves accordingly to show the player what lies down a pit.
Ikki is armed with dual swords which the player can use in up, down or forward directed combos. To attack enemies at a distance, Ikki can also use her bow to fire arrows in any direction. All enemies in the game cause damage when touched. To dodge them and move faster, Ikki can execute forward rolls.
During the adventure, the heroine acquires new abilities by defeating bosses, useful to access new zones of the game world in a metroidvania fashion. Said abilities are (in order of appearance): Magical Arrows, Heavy Down Strike, Dash and Mind Control. The latest one is used to control a second character with different abilities in the last sections of the game.
Money is collected throughout the levels by smashing blocks, cutting grass and finding treasure chests. There is another type of coin in game, the ore, required to purchase optional upgrades for the swords, bow and max health points. Ores are hidden in big treasure chests and off-road exploration is needed to find them.
There is no hand-holding for the player, the game relies on level design to teach new mechanics. The game world is made of nine interconnected areas, containing a couple dozen teleporters which can be used for fast-traveling once activated.
OST
| Track # | Title | Length |
| --- | --- | --- |
| 1 | Hunter's Legacy Main Theme | 3:47 |
| 2 | Intro | 0:48 |
| 3 | Oma Forest | 2:44 |
| 4 | Iripur Town | 2:18 |
| 5 | Temple Path | 1:22 |
| 6 | And you are... | 0:32 |
| 7 | Lullaby Swamp | 3:01 |
| 8 | Hello, Morodir | 0:26 |
| 9 | Meeting the Mysterious Monk | 0:20 |
| 10 | Ancient Conifers | 2:28 |
| 11 | Willow Forest | 2:17 |
| 12 | Acquiring an Orb | 0:20 |
| 13 | Snowed Volcano | 2:41 |
| 14 | Floating Plates | 2:00 |
| 15 | Morodir's Domain | 4:24 |
| 16 | Boss Fight | 2:23 |
| 17 | Final Showdown | 4:05 |
| 18 | The End | 0:37 |
Composers: Ave & Vampiro
CD1
CD2
| Track # | Title | Length |
| --- | --- | --- |
| 1 | Hunter's Legacy Main Theme (Side B) | 2:07 |
| 2 | Prototype 1 (Unused) | 1:42 |
| 3 | Prototype 2 (Unused) | 1:14 |
| 4 | Prototype 3 (Unused) | 2:34 |
| 5 | Prototype 4 (Unused) | 0:52 |
| 6 | Prototype 5 (Unused) | 1:20 |
| 7 | Prototype 6 (Unused) | 0:52 |
| 8 | Open Chest Jingle | 0:05 |
System Requirements
Windows
Minimum
OS: Windows 7
Processor: Intel i3
Memory: 2 GB RAM
Graphics: Intel HD Graphics 2000
DirectX: Version 9.0
Storage: 2 GB available space
Recommended
OS: Windows 8
Processor: Intel i5
Memory: 4 GB RAM
Graphics: Intel HD Graphics 4000
DirectX: Version 9.0
Storage: 2 GB available space